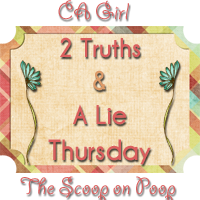 Tell me 2 truths and a lie and make me guess which is the lie. You've played this game before, so why not join The Scoop on Poop and CA Girl every Thursday by
1.Grabbing the handy little button on the sidebar
2.Posting your 2 truths and a lie
3.Link up
4.Reveal your lie the next week!
Last week I broke the rules, and we played 2 Lies and a Truth.
I got a new piercing last weekend. It was:
1. My eyebrow.
2. My nose.
3. The cartiledge on my left ear.
AHA!! Not a single person got it right. Not even Miley. I feel so accomplished.
It was my nose. It's really cute. And Bean loves it!!
This week we'll go back to 2 Truths and a Lie..
It got cold last weekend and that makes me think of Christmas and holidays.. So we'll go with that.
1. I love having a fire when it's cold, but I don't know how to light one.
2. I had 4 Christmas trees last year and plan on having 7 this year and would like to have 9 in 2011.
3. I spend around $500 on each of my children for Christmas every year.
Take your guess and come back next week to find the answers..
And don't forget to link up and play!! I'm totally addicted, you will be too.