With all the excitement of
Back to Blogg
ing and my guest post over at
Aunt Crazy's
I didn't get a chance to post up my 2 Truths and a Lie, but I couldn't leave y'all hanging..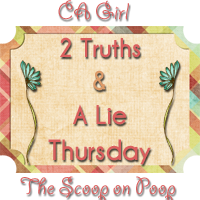 Last Week I told you:
1. I have 2 tattoos.
Very true. A "II" on my left inner wrist which serves many purposes:
It helps me tell my left from my right.
I am a Gemini.
I have 2 children.
And Bean is my second chance.
And a nickname that the best friend I ever had used to call me, "Bel" on my back (but not a true trampstamp). I got it shortly after his death when I was eighteen.
2. Bean has 2 tattoos.
Also true.
He has our last name on one arm and a scorpion on his other. And I do have to tell you that the man has elastic skin that any woman would pay good money for.. When he was in the hospital and blown up like the fucking Michelin Man I kept thinking how his tattoos were going to be unrecognizable.. but no, they're still the same.
3. We want to get a tattoo of each other's names.
Absolutely not - total and complete lie.
I love my husband and he loves me, but there will be no names tattoo'd on persons.