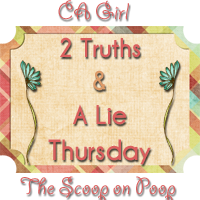 Tell me 2 truths and a lie and make me guess which is the lie. You've played this game before, so why not join The Scoop on Poop and CA Girl every Thursday by
1.Grabbing the handy little button on the sidebar
2.Posting your 2 truths and a lie
3.Link up
4.Reveal your lie the next week!
I didn't play last week because I was brain-fried, so I have nothing to reveal..
This week:
1. I have told my current boss that I can't stand him. To his face.
2. I once had a boss stab me in the hand with a needle.
3. I have slept with a boss before.
Take your guess and come back next week for the reveal!!