I need to say for the record, that I'm almost positive that I'm doing this wrong, but I
love
this idea, so I don't really care. (Though you are welcome to tell me how I fucked it all to hell if it makes you feel better. Just be prepared for me to ignore you.)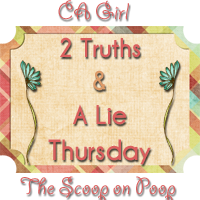 Welcome! Tell 2 truths and a lie and make us guess which is the lie.
You've played this game before, so why not join The Scoop on Poop and CA Girl every Thursday by:
1. Grabbing the handy little button on the sidebar
2. Posting your 2 truths and a lie
3. Link up
4. Reveal your lie the next week!
5. Visit others who link up and leave a comment guessing their lie.
It's that easy!! You know you want to play!! Link up today!!
Yeah, I know I already posted today, but this looked like too much fun to pass up..
With only one exception, every man I have ever dated has proposed marriage in some way or another.
Oliver is taking Tap classes in the Fall.
I once toured Europe playing in a band.