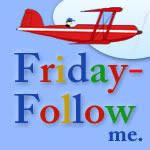 Welcome Friday Followers!!
I'm so excited that you chose to come visit me, it gives me warm fuzzies and whatnot..
Just to give you a little intro & the cast of characters..
I'm moderately insane and by that I mean that I can hold down a job and everything, and usually manage to act pretty normal, but the stuff that goes through my head, that's an entirely different story..
I'm the mother of two brilliant children who totally embody my multiple personalities..
Oliver is crazy - he's all over the place, thinks normal is highly over-rated, and he has a real problem with staying in the box.. He's 10 and is currently calling himself "Majesto the Magnificent".
Tallulah is straight and narrow - she NEEDS rules and if you don't give them to her, she gets upset. She's 6 and keeps the family calendar, by her request.
I'm divorced from the kids dad - good riddance to bad rubbish.
And I'm married to the love of my life, Bean.
Bean is a cancer survivor, more random than I am (if that's possible) and he spoils me rotten - he wakes me up with a cup of coffee every morning..
My mother lives with us, and for the most part that works, but sometimes I think we're a little too crazy for her - or maybe she's too normal for us??
And this is my blog - it's the place where I let it all hang out. I cuss alot and post more or less whatever's on my mind, from kid antics, to work drama, to insane meltdowns and then some.
Now that we've got that out of the way, let's play a little game. And for the record, I totally stole this idea from jChristy at
I'm Just Sayin'
.
What's your worse foot-in-mouth moment?? Or. If you're one of those people who
never
has foot-in-mouth moments, then tell us about someone else's.
I don't have foot-in-mouth moments, I have foot-in-mouth syndrome. I'm forever saying shit that I shouldn't. For example:
At the company Christmas party Bean & I were sitting across from the President (of our company, not of the United States) and his wife. And everything was going great. We're chatting & Mrs. President was all nice and stuff. But she kept asking questions, and really you shouldn't ask me and Bean questions if you don't really want the answers. So before I know it Mr. & Mrs. President are getting my whole fucking life story and half way through I
finally
start listening to myself, and I realize that I have now told my boss and his stick up the ass wife that I have two children by two different fathers neither of whom is with me at this party.
Fuck.
Then it gets worse. I start backtracking (because my stupid ass can't leave well enough alone) and trying to explain how I'm not a whore or anything I just have bad luck with men, or maybe men just suck, or maybe I'm an idiot, or maybe just have verbal diarrhea.
Double Fuck.
And then Mrs. President looks at me and says
Are we going to be quizzed on this later?
Triple Fuck.
At the next company party Mr. President assigned seating and put me & Bean as far away from him & Mrs. President as possible.
So make me feel better. What's your foot-in-mouth moment??