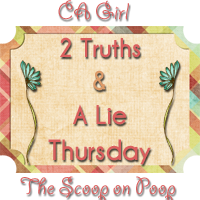 Tell me 2 truths and a lie and make me guess which is the lie. You've played this game before, so why not join The Scoop on Poop and CA Girl every Thursday by
1.Grabbing the handy little button on the sidebar
2.Posting your 2 truths and a lie
3.Link up
4.Reveal your lie the next week!
So last week, I told you that:
With the exception of one, every man I've ever dated has proposed in some way or another.
True - with the exception of Alien, Oliver's biological father, ever man/boy I have ever dated has at the very least talked marriage plans with at least moderate seriousness.

Oliver is taking tap classes in the fall.
Lie - Oliver is taking Hip Hop in the fall. Way to go Momma Bear, Kristy & whoever the hell anonymous is.

I once toured Europe playing in a Band.
True. But, it was a band consisting of french horns, trumpets and clarinets, not guitars, drums and keyboards. It was the summer after my senior year in high school and it was way cool.

On to this week's list..


I am 5'9".

Bean is the 8th sex partner I've had.

Stevie Ray Vaughn was my cousin.


Take your guess, play along, and next week you'll see the answers!!