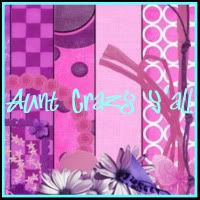 Buckle on your shotguns, gather up the hounds. I'm about ready to round up the search parties!!

Where is Aunt Crazy?!?!?

I miss her!!

I'm worried about her!!!

And more importantly..

I'm BORED!!!!


*Seriously though, if any of y'all (Candance) are cool enough to have real means of communication with her (Candance) then could you maybe drop her a line to tell her that she's being thought of and missed (Candance) and worried about (Candance) and possibly added to some prayer lists and maybe even some missing persons reports with some very confused local authorities who tell me they cannot find anybody if the best I can tell them about their husband is that he answers to the moniker of "Uncle Bubba".