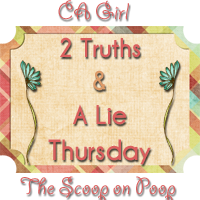 I am not actually playing this week.. I've got nothing, but I couldn't leave you hanging from last week.
1. I once killed a frog just to watch it die.
Lie.
Are you kidding me, Bean would divorce me on the spot. Have you seen his picture on the sidebar?? I told him this was the lie from last week and he pouted about it for 45 minutes!!
I did however once kill a frog completely on accident.

2. My favorite band of all time is Queen.
True.
I love Queen. "Lazing on a Sunday Afternoon", "Love of My Life", "You're My Best Friend".. I love it. They make me, laugh and cry and sing along.. It's perfection.
3. My husband calls himself the Uni-baller.
True.
Bean has this hideous gray hoodie and he also only has one ball. So when he wears it, he pulls up the hood and calls himself the Uni-baller.