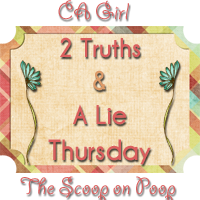 Tell me 2 truths and a lie and make me guess which is the lie. You've played this game before, so why not join The Scoop on Poop and CA Girl every Thursday by
1.Grabbing the handy little button on the sidebar
2.Posting your 2 truths and a lie
3.Link up
4.Reveal your lie the next week!


As for last week:

1. I have 22 first cousins. Lie.
A little sneaky lie, but a lie nonetheless. Technically I have 12 first cousins. I have 3 "courtesy cousins" who are just the same as family, but are not tecnically. And then when you add in spouses of both actual cousins and courtesy cousins it brings the grand total to 20. I also have a good 15 second and third cousins that I actually speak to.

2. I have never lived by myself. True.
I have always lived with another human being. Actually always with an adult. Even as an adult. Kindof sad, but true.

3. I collect dragons. True.
I can't believe you guys all thought this was the lie!! It may not be impressive or anything, but I love my dragons!! In fact, I really want this dragon side table..

1. I once killed a frog just to watch it die.
2. My favorite band of all time is Queen.
3. My husband calls himself the Uni-baller.


Take your guess, play along, and next week you'll see the answers!!