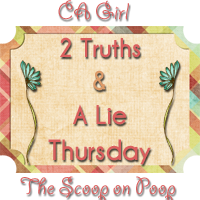 Tell me 2 truths and a lie and make me guess which is the lie. You've played this game before, so why not join The Scoop on Poop and CA Girl every Thursday by
1.Grabbing the handy little button on the sidebar
2.Posting your 2 truths and a lie
3.Link up
4.Reveal your lie the next week!


So last week everyone thought I was a big whore.. now's the time when you find out whether you're right..

1. I am 5'9" - Lie. I'm 5'5" barefoot and between 5'7" and 5'8" in heels, which is what I usually wear, I have a height complex.

2. Bean is the 8th sex partner I've had. - Completely and totally True. Not a whore. Sorry to disappoint.

3. Stevie Ray Vaughn was my cousin. - True. And Miss Nikki - I would have said "was" even if he was still alive because he was my distant cousin by marriage, to Lenny, who the song was about, and they divorced, so he stopped being my cousin before he died.

And moving right along to this week:

1. I have 22 first cousins.

2. I have never lived by myself.

3. I collect dragons.

Take your guess, play along, and next week you'll see the answers!!